Grab Appointy 9 at surprisingly affordable prices! (USD 240* off + 5 other reasons to upgrade NOW)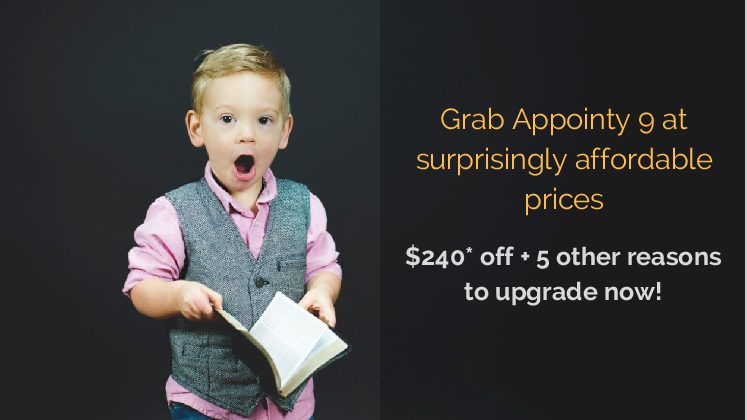 We are launching the latest update of Appointy for all our customers in beta mode this Thanksgiving. The full-fledged launch of the product is scheduled to roll out from January 1st. Our Cyber Monday Offer 2017 is your chance to get the world's best scheduling software – at a flat 40% discount.
This post gives you an exclusive peek into what makes the next three days the best time of the year to purchase an Appointy subscription or upgrade your membership.
---
1. New Pricing plans rolling in from January 1, '18
Appointy will never be available at this price. Ever. We are adjusting our pricing plans to more accurately reflect the value users get from Appointy. This new pricing goes live on 1 January 2018.
See our new pricing plans with per staff billing here.
However, if you're a paid customer before 31st December 2017, we will honour our previous pricing tiers for you. This makes it effectively your best chance to lock in our old pricing before the change is made (that too at a Flat 40% discount).
Hence, if you're planning to buy an Appointy subscription for your business or upgrade your current membership (from Free->Pro, or Pro ->Business), now is the best time to take the decision.
Hurry up! Offer is valid only for the next 3 days.
2. 30-day free lookup period
For the first time ever, we are offering an Appointy subscription with a 30-day full refund guarantee offer.
This means that if for any reason you decide that Appointy is not the right fit for you, you can cancel your account before 1 Jan 2018, and we will make a full refund.
No questions asked. Easy refund.
3. Blazing fast. Feature-packed. Absolutely gorgeous: Appointy 9 now live in beta mode
We are launching our latest update, Appointy 9, this Thanksgiving in beta-mode. The full-fledged launch is scheduled to roll out from January 1.
Champs from our tech team worked throughout the year redesigning Appointy from scratch. Last month, we launched what is the most beautiful version of Appointy ever, in its beta-mode. After extensive testing by our team, we offered the new update to a few customers for feedback, and they obliged.
After incorporating the feedback as reported by our customers and testing team, we're excited to finally announce the launch of this beautiful new update, that we're calling Appointy 9.
Here's what's new:
About 5x faster Admin panel load time than the existing version. Working with such fast moving interface is going to be a delight, and you'll be just one click away from managing your business, literally!
Clean User Interface that is generations ahead of anything in the market:
Appointy 9 has a clean, modern interface, that resembles a powerful product fit for today's consumers.
Easy to understand, Simple, and designed for everyday use. In this new update, we've also redesigned some of your most used features for better accessibility and ease of usage:
A brand new Toolbar
Redesigned Business Hour Management
Better Staff-Service linking
Direct appointment-booking from Customer tab
Appointment Quick view area
We've incorporated some exciting new features in Appointy 9. To name a few,
Customer journey
Staff view in Business hours
Customer Notes printing and history
Redesigned Toolbar,
And many more. You need it, we build it.
New integrations with your favourite business tools:
For the first time ever, we are presenting a dedicated marketplace in Appointy that will allow you to get even more value out of our product by integrations with your favourite business tools (payment gateways, CRM software, accounting software, email software)
We're already working on collaborations some of the major players in the industry and have many exciting integrations lined up for the future.
Single screen business management:
We've added a new default screen where you land as soon as you log into your account: The My Space screen. It is a customisable personal space that gives you an overview of your day, access to other featured, and allows appointment management – all from a single screen.

4. Free listing on Reserve with Google
Last month, one of our customers, Nelson made an extra $500 in just three days from the bookings he received from Reserve with Google alone.

Another customer, Arthur, has been witnessing a 34% month on month growth in 'business from RwG'.
Expect new customers to find and book you, on all Google properties (Google search, Google Maps, Reserve with Google website).
Right at the starting of this year, we announced our collaboration with Google as an Official Google Reserve Partner to help you get more customers. While still in its initial stages, Reserve with Google has already shown some tremendous results.
While the Reserve with Google program is just warming up, it is all set to completely change the way your customers find and book their appointments online.
It is the revolution. And with Appointy, you get a chance to bring it home!
5. We're bringing in something from the future
A brand new booking interface is in internal testing.
With this, we plan to provide a scheduling automation solution not only online, but also for offline interfaces (such as phone calls, walk-in appointments). Shh..we can't say more, but promise that this is something from the future, and that you will love it!
---
To sum it up,
It doesn't get better than this. Seriously!

Consider it an early Christmas present from us at Appointy. 😃